"Pictures paint a thousand words!".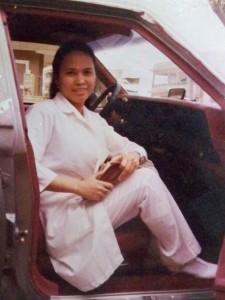 In a memorable photo taken in June 1982, my sister can be seen in her nurse uniform that consist of a combination of a white short-sleeved blouse and pants, with her white lab coat on. She was about to leave the workplace, after her duty on board a car that will bring  her to the nurses' quarter. Basically, all  their scrubs and caps are  removed immediately upon leaving the hospital. Alma, her eyes sparkling, is the very picture of pride.
Time has gone by so fast. This portait was taken in Saudi Arabia more than thirty years back. By then, she was still single and the eldest in our family of twelve children (and for sure, uniforms were not bought from websites such as http://www.blueskyscrubs.com/ because there's no internet yet).
"Good things come in small packages." But with Alma, the best things come in compact packages. Since her elementary and secondary education, she has been a top performer in her class. In college,  a recipient of the National State Scholarship Award. Early in her career, she managed to help the family financially for the education of our big family. She gave herself in the service of the family , in the making of a family with " A Dozen Professionals".
She has proven that "poverty is never a hindrance to success!" She is one of a kind indeed.