Have more fun! Go to the websites with online browser games.
My family and I have a very special (and VERY happy!) bonding moments to start the year! Not only do we have time bringing back our  normal video and computer games , we are also having  browsergames online for free.
My children enjoy the multiple-player browser games like racing, point and click game with my husband and me. For me, puzzles and non-games are also interesting and challenging.
I keep with me a list of browser-based game websites which includes Browsergames. It's a website in German language but thanks to web browser translators, I can translate it to English and understand what's written there and enjoy playing too.
Here's a screenshot of the site: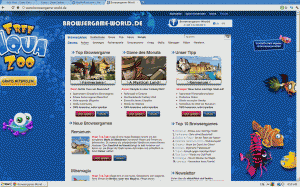 In our daily interactions within the family, we parents convert our houses into "homes" by spending as much time as we can with them. Let's spend quality time with our children.