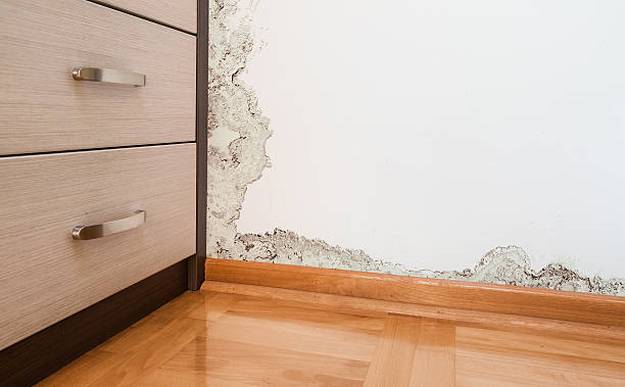 Black mold in the home is an irritating but common problem that many homeowners have to face. Since these toxic spores can cause or irritate health issues (not to mention it looks extremely unpleasant!), you will of course want to tackle the issue as quickly as possible. If you have black mold in your home, here are what you need to do.
Check for Leaks
Mold is often a result of a leak somewhere in the home. This could be from a pipe, or from a gap or hole in the roof. To get rid of mold for good, you absolutely have to get to the root of the problem. You may need to have a plumber or roofing company come out and inspect everything, or if you are a DIYer have a look yourself. In other cases, old windows can be the issue. Leaky windows or those that cause a lot of condensation can cause moisture to evaporate and sit on walls and ceilings- creating the perfect environment for mold to grow. Opening windows each morning or using a squeegee to remove excess moisture is needed unless you can upgrade your windows. Better models, especially those with triple glazing will dramatically reduce the condensation.
Use Extractor Fans
Steam from showers or baths along with from cooking can also condense in different areas around the home. Again, this provides a place for mold to grow. Be sure to switch on your extractor fan after each bath or shower, this is even more important if you do not have a window in the room. If you do not have an extractor fan in the bathroom, consider having one installed or speaking to the landlord if you are renting. Use a cooker hood in the kitchen too if you have one. At the very least, open windows whenever it is steamy in the house.
Invest in a Dehumidifier
Another way to remove excess moisture from the air is to purchase a dehumidifier. In winter, you might find your breath as you sleep condenses on your cool bedroom walls leaving them wet to the touch. A dehumidifier removes this. If you get a model with doubles up as an air purifier, you will remove pollutants and allergens at the same time.
Use an Anti-Mold Product
Once you have taken care of the moisture issue in your home, you will need to tackle any existing mold that is formed. You can buy anti-fungal and mold products from most DIY stores, in a ventilated room remove it with the detergent and a cloth. If the problem was extensive, you might need to repaint as well. Choose a paint that offers anti-mold technology for further lines of defense against the horrible stuff!
Black mold is incredibly bad for health, so the quicker you address the problem and get it sorted the better. Since mold is caused due to excess moisture in the home, this needs tackling first, or it will simply keep coming back.