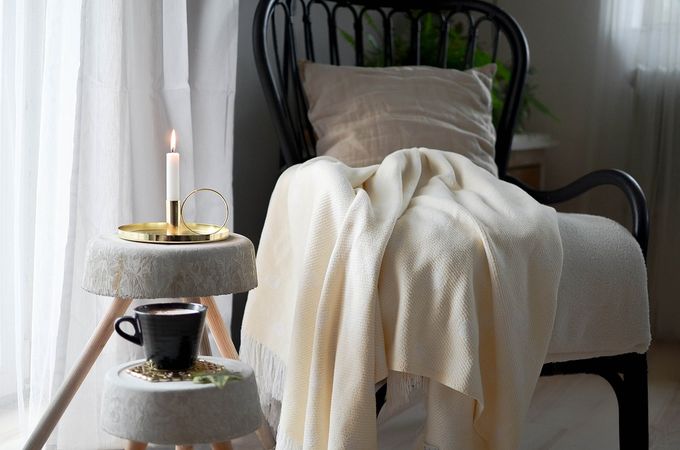 Hygge, pronounced 'hue-gah', is a Scandinavian decor style that has grown in popularity over recent years. It's a very simple design style that creates a serene space, free of clutter. The whole idea of this decor style is to ensure that you feel calm and stress-free when inside your home, not to mention super cozy. Usually, a Hygge home is a great place for family and friends to spend time together too.
Let's talk about what it takes to create the perfect Hygge home:
A Neutral Color Scheme
Sorry, bright color lovers, but this isn't what Hygge is all about. Usually, a Hygge color scheme needs a neutral color scheme. Make sure you don't choose overwhelming colors and patterns. You can use a few pastels, greys, and colors similar to this that you enjoy, but avoid vibrant colors that can make the space more stimulating than relaxing.
Create a Cozy Atmosphere
A cozy atmosphere can be created with lots of texture, so make sure you add plenty of pillows, throws, and comforters. This will add interest to a minimal design, stopping it from looking too plain. Choose materials like wood, wool, and anything else you like that you feel fits your hygge theme.
Creating nooks and other spaces that are perfect for curling up with a good book is a great idea too. However, if you don't already have an interesting place for a nook, you may need to invest in one. A 203k renovation home loan could be considered to help you meet your goal if you need funds. You can make your home even cozier by using many pretty candles to add a soft, twinkling light to your home. Make sure you use these throughout the home for a delicate glow that packs a punch. Just make sure the smell isn't overpowering. Fairy lights also give a nice glow and can be used, and look great in the bedroom especially.
Incorporate a Fire
What could be cozier than sitting with hot chocolate and your family by a fire, or even snuggled up reading your favorite book? A fireplace is one of the essential elements of Hygge decor, as it represents togetherness and warmth. As real fireplaces can take a lot of maintenance and upkeep, not to mention the safety factors that must be considered, installing an electric fire can be just as good and save you some money in the long term.
Creating a Spa Bathroom
Your bathroom should be a retreat in your hygge style home. Having hidden storage space is key to minimizing mess and stress, so make sure you find ways to incorporate this as best you can. It's a good idea to have some fluffy robes and towels at the ready to make using the bathroom a real luxury experience!
Hygge is all about making your home a relaxing retreat, so aim to do this while keeping things minimal and you'll nail it. Look at pictures online for inspiration!