Summer is fast approaching, and if you have kids, you may be looking forward to spending sunny afternoons in the garden. If your kids are more interested in smartphones and video games than playing outside, you are not alone. Many parents have a battle when it comes to encouraging their children to drag themselves away from small screens. If you are keen to make the most of your backyard this summer, here are some tips to help you get the kids off the couch and into the garden.
Design a child-friendly space
Do your kids often moan about being bored? If so, why not make an effort to create a garden that is both child and adult-friendly? You probably want to have an area where you can entertain, but it is important that the kids have space to play, enjoy being outdoors, and learn.
You can make a garden extremely versatile, even if you only have a small space. If you have a lawn and patio area, you can create a mini soccer pitch by buying a couple of goals and hang a basketball hoop from the wall. If you have a shady spot at the bottom of the garden, why not convert it into a calming retreat where you can laze around on a deck chair or curl up with a good book? You can use a hammock, some floor cushions or beanbags to create a cozy vibe. There are loads of options when it comes to making your backyard more enjoyable for children. Look at ideas online for inspiration and use your imagination. Turn an old shed into a beach hut, an enchanted castle or a house in the woods or lay out some stepping-stones, planks and ramps ad make your own assault course.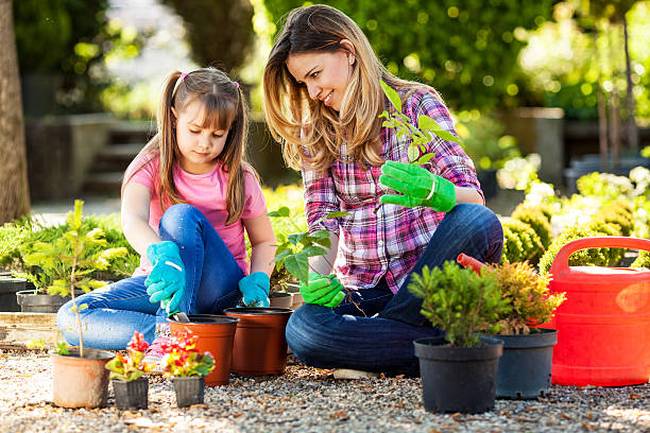 Get the kids involved
Think about what you like to do in the garden, and then consider how you can get the kids involved. If you like to grow vegetables, for example, you could buy some mini greenhouse kits and encourage the children to learn how to plant seeds and tend to their produce. Take them out with you when you go to water the plants, and let them help with digging and planting. You can buy children's gardening sets and show them the basics. When you have vegetables that are ready to harvest, you can cook a hearty, healthy meal together.
Make it fun
Your children are not going to be champing at the bit to get outside if they do not have fun when they spend time in the garden. Get out some garden games, invite friends over, and make the most of the fresh air. Have a picnic, get a badminton tournament going or put some music on and have a garden party. The more fun your children have in the garden, the less time they will want to spend glued to the TV or the computer screen.
If you are looking forward to sunny weather and spending time in the garden and you are keen for your kids to share the same level of enthusiasm, hopefully, this guide will come in handy.