Are you constantly picking up toys from all corners of your home? Do you feel like you are in a continual battle with your children, always fighting to keep your home organized and tidy? Then why not create one room in the house where you can contain all the children's toys, books and play things. One area where not only can you keep all the children's things contained, tucked away and out of site, but a room where your children can play happily in a creative and fun environment. Here are our easy steps on creating the ultimate children's playroom.
Central Play Table
Creating a central play table is a great place to start when looking at how you can organize and create a lovely children's playroom. Start from the center and work your way around this central play table. You need to decide on the size of the table depending on how many children you have (factoring in a little extra space for when their friends are over too). You also need to find a table that will fit the room and as the children won't need a playroom forever you might want to opt for a versatile table that can be used in a different space in the home when the children are a little older.
If the space you are working with a quite small you will probably want to consider a table with built in storage so you can have an added storage space to put away all the children's little bits and bobs. Rectangular and square tables are better than circular as they can be pushed into corners if you ever want to the open up the room for parties or game afternoons.
If you have a larger space to play with then you can afford to get a table that can comfortably accommodate 6-8 children. This will be great for when the kids bring friends back after school or at the weekends when they want to have their pals over to play. Of course, larger spaces will also mean that you can join your children more easily and get involved in their play activities.
The height of play tables is important so you will want to put a little thought into the dimensions of the table. Coffee tables actually make great play tables if you want to go for a low play table. These are great for younger children, toddlers especially. If your children are around 3-8 years old then a medium height table will be better so that they can sit properly around a table to comfortably color and paint, play board games and do jigsaws. Medium height tables are also more comfortable for adults for those afternoons when you have a little spare time to get involved in the kids play activities.
There are also play tables where you can adjust the height. So if you have children of different ages this option is perfect as you can adjust the table depending on the children's needs and the activities that they want to do that day. If you have very young children this is also a good option, as you will not need to change the table as they get older. You can simply extend the height as they grow up.
Play Chairs
The chairs that you then choose, to go around the table, are also important depending on the type of table that you have chosen. If you have opted for a coffee table style low table, then all you need to add are a few big cushions or poufs for the children to sit on. If you have gone for a larger table where they children can sit around the table, then you will need to invest in suitable chairs for the children to sit on.
The chairs you choose can be colorful and bright so that they add interesting pops of color to the playroom. Maybe you can even get your children to choose their own chairs in their favorite color so that they can feel they have been involved in the creation of their very own play space.
Splayed leg styled chairs are really good for younger children as they are much harder to topple over. We all know how children love to rock back and forth and lean back in their chairs, so splayed legs will mean your children are far less likely to tip their chairs over and hurt themselves.
Bench seating is a great option as the number of children you can fit around a table is much more flexible with this type of seating. If you are sitting, for hours at a time, around the play table, benches are easy to add cushions to make them comfortable for long afternoons creating and playing.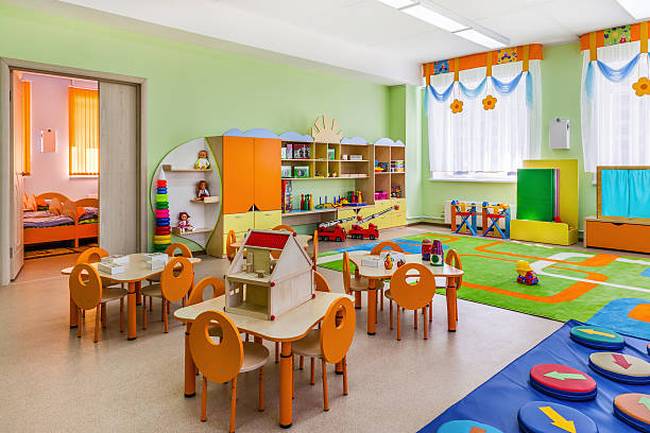 Reading Corner
Creating a peaceful and cozy reading corner is a fantastic way to encourage your children to explore the world of books and get more excited about reading. Firstly, choose a bookshelf that is low enough that they can help themselves to books without having to ask you for your help reaching the top shelf. Horizontal bookshelves therefore are the best design for children's books.
Then put a little table next to the bookshelf in case they want to pile up a selection of books to flick through. A little table will also help create the mood of a 'book area' which will make the area look much more welcoming and will encourage the children to spend more time in this book area. Finally, you will need soft and cozy seating to ensure that this is a space that the kids love spending time in. Putting in one or two pillow sack chairs is a great way to add color and soft textures into the room, whilst making a cozy seating option for the kids – an area where they can curl up with a good book and really enjoy the experience of being transported into the different worlds of their favorite book.
Textiles
The textiles in our children's playrooms can make all the difference between dull and dowdy and fresh, fun and welcoming. So think about the type of textiles that would work well to achieve the mood you are looking for your play space. Soft, bright wool carpets make playrooms look colorful and inviting and are soft under the children's feet and under any knees or heads if there are any accidental tumbles.
There is a wide variety of beautiful children's rugs available these days and there are even some designs that are created for child interaction. Rugs with village maps for children to navigate their toy cars and trains are super fun. Alternatively, for toddlers, rugs with interactive play objects are a great purchase to encourage your toddler to interact and continue to develop their cognitive skills.
Pillows and blankets will add a softness and coziness to your playroom, so scatter a few around for extra seating, story time or even for snuggle and nap time. Have a look around online for patterns, colors and sizes that would best suit the overall style of your playroom.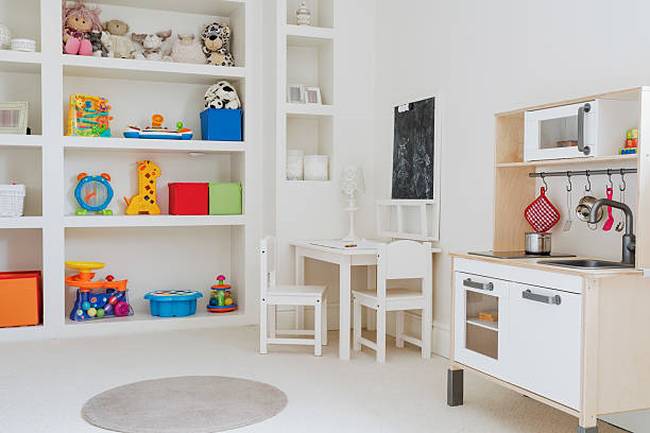 Storage
Ok, so this is the real genius of a child's playroom. Not only does a playroom give the children an area that they can call their own and happily while away the hours playing and having fun. However, it also allows you to keep all the children's toys contained in one room (well that is the idea anyway). Rooms where you can store all the kids' toys and games and if it looks like an absolute mess, you can simply shut the door behind it and not have the kiddy chaos spilling out into all corners of your home.
The secret to an amazing kid's playroom is all in the storage units. This is where the magic of this room, for parents, really happens. Having a home for all the different types of toys, games and knick-knacks is how you and your children can really keep this room neat and tidy. A space you can all really enjoy as a family.
A good idea for storage is to color code the main storage item. This is a good way to get your children to start thinking that all their toys have a specific 'home' so that your children can be more encouraged to tidy up after themselves. For example, the blue box can be for cars, car tracks, trains etc. The green basket can be for all the Lego. The red bin can be for dolls, dolls clothing, cuddly teddies and plush items. The little wooden box next to the play table can be for all the paper, paints, play-doe and all the arts, crafts and 'creative' items.
Bring creative with the different sizes and shapes of these storage, boxes, baskets, bins and bookshelves will help to establish a natural storage space (or to the kids, a 'home') for all the different toys and games that the children play with.