Have you ever wanted your home to stand out, like really stand out, to those that visit it? Have you ever dreamed of owning a home that leaves a lasting image on your guests? Well, what is stopping you from doing so? Even the most iconic of interior designs are achievable for all. No matter what size, shape or style your home is there is always the opportunity to adorn it in iconic styles.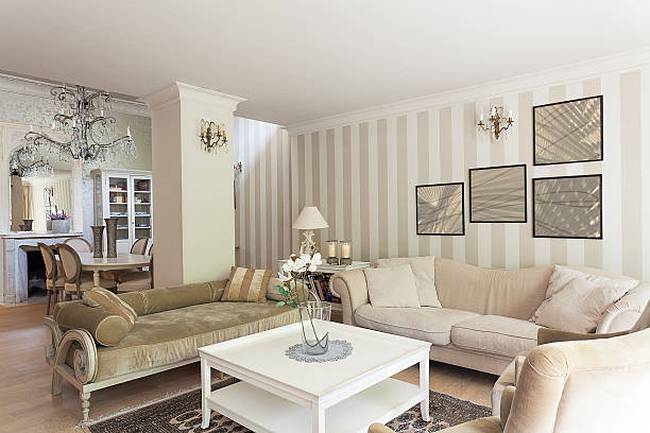 First, you should try to make your living room look as iconic as can be. You should try to realize all the potential that this room has. A way to do so is to mix and match when it comes to colors and styles. Now, this may go against the grain of everything you have learned or been taught about interior design. However, if you want your living room to really stand out then it has to be a bit 'out there'. For instance, you can take inspiration from some of the most iconic style movements of the past and then proceed to twist them in your own way.
You could draw inspiration from these pop-art living room designs, for example, but mix them with a far more sophisticated look. Yes, you read that correctly. You could mix pop art with sophistication. What is stopping you from having a distressed Chesterfield sofa be the focal point of your room but having some of Warhol's finest pieces sit behind it to accentuate it? What is stopping you from having an elegant wood mirror hang on your wall next to a painting of a can of soup? By mixing and matching in this way, you are instantly showing your living room to be just about as iconic as they come. However, you should always remember not to go overboard in this venture. Doing too much and overkilling the mixing of styles will only make the room look tacky. You want to do just enough to make your living room look bright and happy.
By why stop in the living room? You can make your kitchen just as iconic too by bringing into the future. Because of the all appliances in it, this a room lends itself perfectly to a futuristic twist. Anybody that steps into it, whether it is to make food or converse at a party, will be taken aback if they see under cabinet LED lighting. Anybody that sees you not using a traditional bread bin but the Space Master instead will be hit with that wow-factor. In addition, once this has rubbed off they will then question whether they have in fact been transported into the future or not.
So, the next time you come to changing your home style, make sure to take heed of the advice above. Make sure to bear in mind that you want to leave a lasting impression on all of your guests. Make sure to choose the wackiest contraptions, styles and colors you can — but remember not to go too overboard!