So often, it's easy to occupy the household with something that's on the T.V, or video games and digital media. Therefore, it can be easy to forget how great it is to get outside and appreciate nature and all it has to offer. Whether is strolling through a forest or doing high octane activities with the kids, getting outside more is proven to improve both physical and mental health, making it an important issue to address for you family.
Take Up a Regular Family Activity
When you pick an activity to do with the family, it is a smart idea not to make it all about the competition. You and you kids may well partake in sports and games elsewhere in their lives, so picking an outdoor pursuit to do together should be about getting outside, and appreciating nature with one another (not fighting over who scored a goal). Hiking and trekking are excellent ways to build fitness, and there is no limit on the sights you can see and the memories (Instagram opportunities) you can make together. You could base getaways around your activity, and build everybody's skills and fitness up with encouragement and teamwork. Check out some adventure vacation ideas here: http://travel.usnews.com/rankings/best-adventure-vacations-in-the-usa/.
The activity doesn't have to be for adrenalin junkies only, you could regular visit local farms and go fruit and vegetable picking; this would encourage the kids to get involved in making their dinner, as they'd have a vested interest in its ingredients. You could make a regular visit to an outdoor wildlife sanctuary or a city farm, and everybody will be outside, learning about animals and breathing in that fresh air.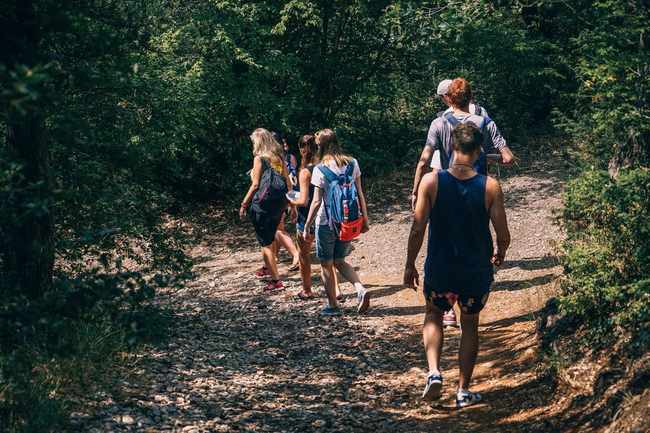 Up Sticks and Leave the City
Another option is to make outdoor living your whole life, and you could relocate the family to a new area of your state. Many of those who have left behind urban or suburban lifestyles have done so to alleviate the stresses a busy town and job may throw at them. Starting a fresh new life outdoors could be just what the family doctor ordered! It would be a major change for you and your kids, but if you are tempted, then there is always help and advice to explore in places like Venture West Ranches, so you can start to dream of life where you are outside, with the kids, every single day.
Start In Your Backyard
If the previous two options seem a little too much at this stage of family life, or perhaps your kids are too small; your garden is a great place to start sparking an interest in regularly being outdoors. You could plant some seeds, and grow ingredients together, ensuring every family member takes part in looking after them. Having an outdoor space could be on a balcony, but the idea is to get the kids involved in taking care of outside environments in all seasons. If the family is regularly learning about nature and weather, they will continue to choose to go outside over watching cartoons on a Saturday morning (well, most of the time).
There are varieties of things you can do to encourage the family to get outside more and live more of an outdoors lifestyle, but it is important that you lead by example. If you are sat on the sofa with your feet up constantly, your kids will do the same. So get out with them and enjoy yourselves!