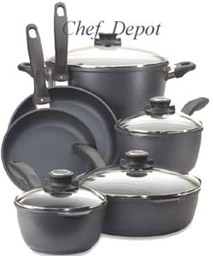 If you have ever looked at an appealing new recipe in a magazine, purchased your list of ingredients, and then found that you do not have the proper equipment to make it, you are not alone in your disappointing experience. There are so many different pieces of equipment you can buy that even just navigating the options can be confusing. However, some items are more versatile than others, and it is those that are worth investing money in. Dutch ovens are one of the most versatile of these; long-lasting and conveniently shaped, they are perfect for everything from whipping up a quick sauce in a saucepan to making a delicious stew.
Enameled Dutch ovens are some of the most popular, because they are virtually rust-proof, do not need to be seasoned, and come in fun colors to coordinate with your kitchen. On the other hand, cast iron models have several significant advantages. Firstly, you can sear food easily in them, which makes them perfect for making things like beef stew without dirtying too many dishes. They are also virtually scratch-proof and unlikely to crack or otherwise break. A one quart saucepan is a great size for a small family of 2-4 and heats quickly, but these ovens come in many varying sizes.
A Dutch oven is one of the most versatile pots in your arsenal. The tightly fitting lid makes them great for long-cooking dishes like soups and stews, and their durable construction makes them perfect for dishes that would otherwise take multiple steps, like a beef stew starting with seared beef and onions.