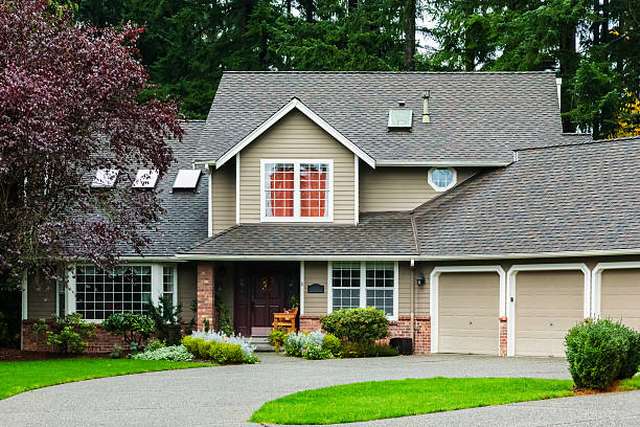 If your interior design is wonderful, but the outside of your house is not looking quite as fancy, then you need to figure out what it's lacking. Once you have done that, you can decide what actions to take.
Here is a bunch of ways to spruce up the exterior if you are struggling for ideas.
Paint
Paint is easy enough to get your hands on, and there are so many things you can do with it. If you are feeling daring why not change the whole color of your house? That will definitely stand out for afar…
If you do not want something so over the top, have a go at painting the lining of the windows. However, remember, depending on whether it is made from wood or plastic will depend on the type of paint you buy.
Plants
Plants are always the go to thing if you need a quick fix. They are great for bringing a sense of life to an area. They are colorful and vibrant, they smell good, and they can even be used to cover up unwanted areas on show. Like a crack in the wall or a broken slab.
Not only that, they attract wildlife, and who doesn't want a bit of that around their home?
Pillars
These add a regal vibe to your house, and they do not necessarily need to be made out of marble and to stand ten feet tall. You could just buy two long, thick pieces of sturdy wood, and secure them into the ground. Sand them off and give them a lick of paint or some varnish and they will look amazing!
Doors
If you are looking for a subtle change, then getting a new door, or even just painting it can change the appearance of your house completely, because that is the vocal point. That is what people see when they walk towards your home.
It does not just have to be your front door though. If you have a garage, you could funk that up too! Check out 54 Cool Garage Door Design Ideas for more suggestions.
Lights
Everyone knows the right lighting can change the whole feel of a room. Therefore, it is no different outside. Get a couple built to the house, something that really shows off your personality! In addition, light bulbs come in all different colors, so why settle for the usual hue. Try going blue or red and see the reaction you get from your neighbors and guests.
Pebbles
Pebbles and stones can be a lovely way to add that special touch to your driveway or front garden. There are many different ways you can use them, like making a trail, adding them around your plants, or even just putting them in a bowl. It sounds so simple, but it is an effective look.
With these ideas, your home should look and feel amazing on the outside, just as it does on the inside.
Just remember to plan it out first, and be sure with your idea before you end up painting your house bright green and later regretting that decision!