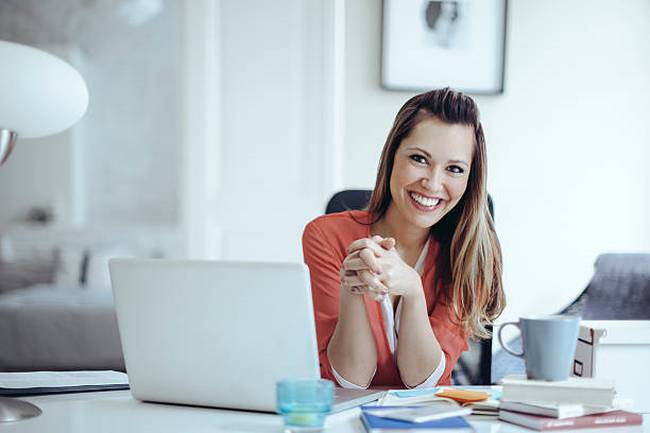 Your startup is going from strength to strength. You have a team of outsourced staff that has grown from one to five, you feel confident in your leadership abilities and your product or service is exceeding sales forecasts. What's more, you are doing all of this from home! Fantastic news! Only one thing is not quite where you want it: your home workplace design.
As with any workplace environment, the decor has a BIG impact on your productivity. Depending on what color schemes, space and comfort the layout promotes, your creativity can either be boosted or hampered. This is an area that, when improved, can really help personal motivation also. People want to feel proud of where they work, and working from your home is not in the least bit different.
One of the benefits of having a home office is that you are free to design, from the ground up, exactly what environment you would like to work in.
Whether you are deeply into the Japanese theories of Feng Shui or simply want to make your home office a nicer place to inhabit, you will absolutely find some benefit in the following tips and tricks.
Use the Power of Plants
Making use of tasteful plant decoration of gives massive benefit. Not only does it bring a feeling of 'aliveness' to your home, but plants have been proven to decrease the stress levels in those around them. This is also a great chance to experiment with color. You do not need to keep the brightest orchids, but some tasteful eye-catching natural color can lend taste to a room that is otherwise drab, gray and aesthetically desolate.
Use Tinted Glass
Tinting the glass in your office is a great way to maximize how professional your home aesthetic looks. If you are hosting meetings or consultations at your home, cordoning off a special divider with it can look great too. Employing window tinting using cooltone glass to separate work spaces can lend your workplace the style it deserves. Be smart about this and you will have an office that even the big businesses would be jealous of.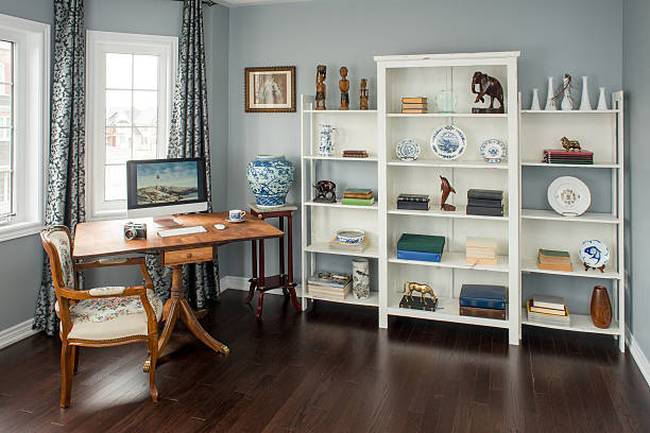 Consider Allocating a Space for Quiet Work
Google is known for promoting creativity in their employees by letting them relax in situations that defy logical workplace etiquette, with bean bags and ball pits to name a few. You need not go that far, but you can make use of the philosophy behind their design. Having a separate, quiet place to respond to emails or study around your chosen duties can help encourage a feeling of activity. Everyone who has worked an office job knows the drabness of sitting in the same chair all day, so allowing yourself to 'think on the move' could help stimulate you, and overall it will give your home office a youthful vibe.
Noise Levels
How noisy is your home? Do you have to respond to your telephone customer support queries right next to washing machine? If so, a home office shake up in where you conduct certain business might be beneficial.
You need to allow the times where you need to focus as much forethought as possible, and you need to make sure those in the home with you are mindful of your needs. Of course, you need to make allowance for your children, but if they are distracting you from your work too often a home sitter or equivalent could be handy to adopt. Consider housing pets in separate rooms to your office if their noise does not travel as appropriately as can be. You surely should not be holding meetings in which the hustle and bustle of your home atmosphere can disrupt a useful discussion.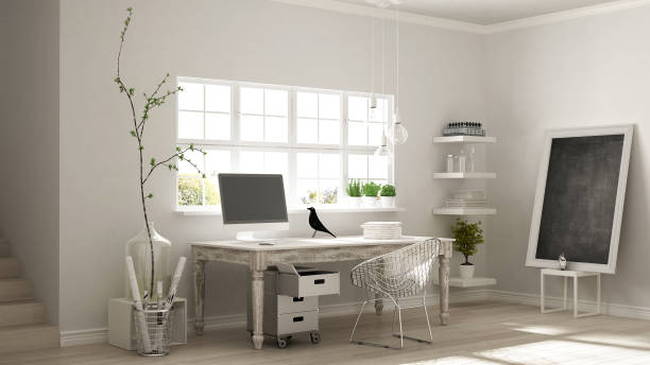 Lighting
Well thought-out lighting can take your home office's atmosphere to the next level. You need to be able to clearly see what you are doing, and look at a computer screen all day without risk of headaches, so that should be your first priority. However, good examples of lighting use include having a backlit or overhead-lit wall dedicated to your achievements, goals, financial information and charting your growth that you can see from all angles. To have such a physical monument to your journey as a centerpiece will allow you to see what you have improved tangibly, and what needs improving. A clean, well-presented wall showing you the good that you are doing is the best way to greet yourself every morning.
Another use for great lighting is using bulbs that diffuse the light. Most home lighting contain lights that emits UV, which can trick your brain into thinking that the sun is still shining when in reality you might be enduring the winter months and in darkness by 4 pm. This can mean that in the worst-case scenario, your sleeping pattern can become affected because it takes longer for your body to recognize that the sun has gone down. A good way to mitigate this is replacing your lighting with halogen, warm lighting. It gives your home a warm glow, which can make even the drabbest of environments look inviting and pleasing to the eye.
Health-Focused Apparatus
Making the investment in health-focused apparatus such as chairs that improve posture and, following the topic from the lighting section, employing blue-light reduction software on your work computer will greatly improve your long-term health. This is the way that great bosses inspire great staff. Make sure that you do the make the same arrangements for yourself. Also keeping healthy meal options, tea, and coffee nearby will go a long way in keeping you productive, healthy and happy to work.
As adults, we spend almost a third of our lives at work. It is easy to assume that the location does not really matter, that what matters is the attitude. This is not so. They both influence each other, and making steps to implement those steps suggested here will help you turn your home office into a trendy, cool place to be. Ideally, you want to encourage yourself to view your office as a home away from home, despite the fact it is in your home. It should toe a fine line between comfort and productivity, between relaxing and intensely creative.
Who knows what positive results investing in your personal space could potentially yield?