Summer is on the way, and it promises to be a scorcher! Of course, not all of us are keen on heatwaves, and not everyone will be away for a vacation this year. Perhaps you're staying home for a few days this summer? It's the perfect opportunity to sit back and relax. Unwinding at home can be the ideal break unless your home isn't ready for the heat! Here are just a few of the things you can do to prepare for hot weather at home: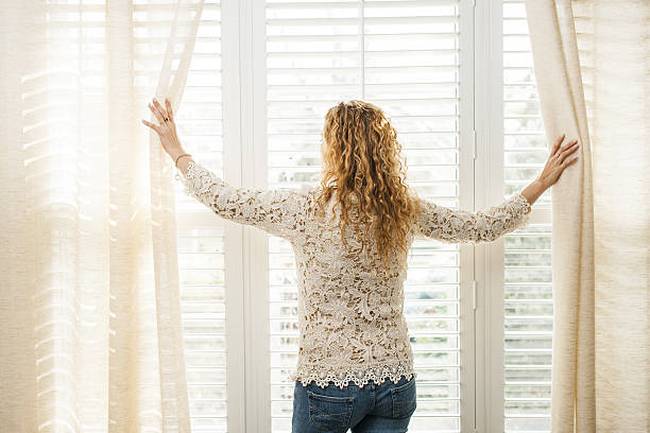 Blackout Blinds
Keeping the direct sun out of your home is a good way to reduce the impact of the summer heat. Direct sunlight can still burn your skin through the glass windows and doors. Sunlight can fade wooden furniture, photographs, and fabrics as well. To keep the heat out and the colors in, install a set of blackout blinds. These can be ideal when you don't want to be woken by an early sunrise too.
If you're not keen on blinds, there are plenty of blackout drapes you can try. Of course, you may feel these are a little too warming. There are also reflective window covers to reduce the amount of light coming in. These can reduce the UV light, too, so they may be safer for a nursery or child's playroom. Stick them to the glass pane carefully, so there are no bubbles. Nobody can tell they are there, although you can buy mirror-finish versions that offer more daytime privacy.
Air-conditioning
How old is your air-conditioning system? It is possible your model has been superseded. This means there may be a more efficient and more effective air-conditioning system than yours. Most systems last a good number of years. However, if they are not serviced, cleaned and maintained regularly, they may not be as effective or as energy efficient as they once were. This could cost you more money to run them, putting you off the pleasure of a cooled room.
If you are not sure about your current system, check out HarsterHeating.com/services/residential/air-conditioning/ to see if there are options that are more contemporary available. When you are at home, you need a way to stay cool, especially at night. Interruptions to your sleep could ruin all those hard-earned days off! Perhaps there is another way to reduce the cost of running it?
Solar Panels
If you live in an area with long sunny days, why not have a look at investing in solar panels? When the sun is shining, you could power some of your hungrier electrical appliances. This might include your air conditioning system! Of course, once the sun has gone down, you will not be generating any more power.
You can also use solar-powered lighting in your garden. These often come with a battery storage installed. Once the sun goes down, the lights come on. They can last for several hours, illuminating your outdoor entertaining spaces beautifully.
Garden and Yard
Most of us love to be outside when the weather is hot. That refreshing cool breeze is exactly what you need when the heat is on. This year, why not invest in a pool? If you do not have space for your own pool, perhaps you could still enjoy a shady area in your garden. Outdoor dining areas with a lightweight roof are more affordable than ever. They provide the shade you need for your kitchenette, table and chairs. You might have a rattan sofa set under there for extra comfort.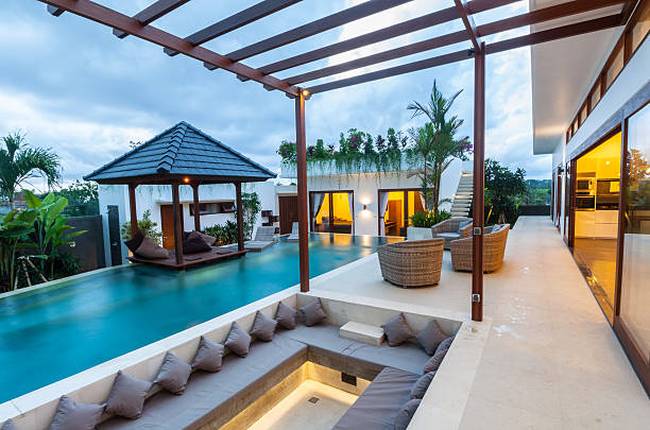 Of course, a simple gazebo might be all you need. A good quality gazebo with netting to keep the insects out is also an ideal outdoor room for the kids to play in. It can offer plenty of privacy too and become your own little sanctuary. If it is sunbathing you are looking forward to, why not add a parasol to your decking area? You can then add the shade you want where you want.
Through Draft
When it is simply too hot to stay out, you might choose to create a draft indoors. This can be achieved with your air conditioning system. You might also have an electric fan to blow air over your skin. If you do not have an air conditioning system, you can create a draft through your home by opening a window at each end of the property. If the wind blows on the back of the house, pick a window or door that will catch this movement of air. A window opposite it at the front will help draw that air right through the property.
Cotton Throws
It is time to swap out those heavy faux furs and woolly couch throws for something a lot lighter. When you are hot, cotton can be the ideal fabric. If you have leather or plush fabric sofas, consider covering them with a lightweight cotton throw. This can be far more comfortable, and is much quicker and easier to clean and dry if it needs it.
Cotton Covers
You can also use cotton to cover you in bed. Using a single sheet instead of your heavy quilt or duvet can be much more comfortable during a hot night. Another handy tip for more comfortable sleeping? Leave your bedroom doors open to allow the air to circulate. All the rooms will equalize in temperature. If you do not like the window open in your bedroom, leave a window open in another room. The cool night air will help each of the rooms on that floor to cool a little overnight.
Entertaining
One of the best things to do with time off work is to spend it with family and friends. Now is the ideal time to scrape off the barbeque grill and check the gas is good for another summer season. Do you have all your cooking utensils handy? You will need to find those old pitchers for the drinks and platters for the food. Do not forget the apron! The last thing you need is hot spatter on bare skin.
Summer will soon be here. The warmth and sunlight could do you some good. How will you be spending your summer this year?