Kitchens are designed to be organized. Cupboards on the walls, drawers and even a pantry if you are lucky, are all installed to help your kitchen to stay as organized as possible. When you do not have much space in the room, you need to utilize every spare inch that you can so you can keep everything as organized as possible.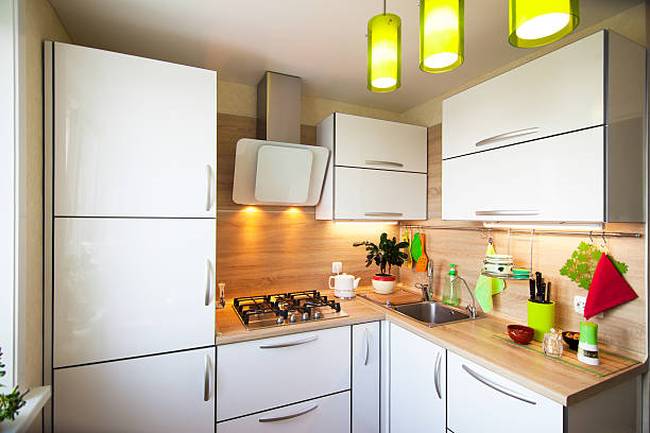 Kitchens are rooms that naturally work hard. Meals are cooked here, laundry is done and for the most part, people enjoy their dinner here. Such hardworking rooms are required to be tidy and to do that, you need our tips.
Go up. When it comes to storage, look up in the kitchen. You will see cupboards with space at the top for storing appliances you do not use as much anymore. Hang your pots and pans above your cooking range – this way, everything stays within reach.
Install a pantry. So, you don't have a walk-in larder? Don't fuss about that. You probably have a space between the refrigerator and the wall, right? Check out the space you have and invest in a sliding skinny storage unit like this one and use it for canned goods and tins.
Decorate carefully. Small kitchens need organization, but if they are not colored carefully you could make your small kitchen even smaller. Purchase Lowes cabinet doors in the color you want so that you can give your room a uniform look. It is not possible to stay organized in a messy kitchen – even one that is decorated messily!
Open shelving is your friend. Kitchen islands and wall shelves that have open sides and shelf space are perfect for recipe books and kitchen accessories that you usually cannot find a home for.
Utilize your sink space by using metal baskets or even desk organizers to stop wet sponges taking up all the room.
Your counter tops are a precious commodity when it comes to your kitchen. You need all the workspace you can get for chopping and cooking. Why not install poles under your kitchen cabinets and hang baskets full of spices and go-to ingredients from them? This will stop kitchen clutter and leave you a blank space to work.
You can make so much of the spaces down the sides of your cabinets, simply by installing hooks. Hang breadboards and towels, and even colanders and other cooking materials from here and use every bit of space you can find.
Cabinet doors are underappreciated space. Installing hooks and racks like these inside lower cabinet doors gives you ample space for storing tea towels and dishcloths. In upper cabinet doors, you could install a whiteboard and keep track of all your sundries that you have in the cupboards.
Kitchens require a lot of precision when it comes to organizing things and you need to be able to access everything in your kitchen easily. Do not be fooled; where there is a surface or a side, there is room for your kitchen to expand its space!